Sri Lankan filmmaker Prasanna Vithanage speaks with the World Socialist Web Site | Wasantha Rupasinghe | 13 October 2015 | World Socialist Web Site
Sri Lankan filmmaker Prasanna Vithanage recently spoke with the WSWS about With You, Without You (Oba Nethuwa Oba Ekka). The 90-minute feature is the final instalment of his war trilogy, which deals with the human cost of the Sri Lankan government's 30-year civil war against the separatist Liberation Tigers of Tamil Eelam (LTTE). Death on a Full Moon Day (Purahanda Kaluwara [1997]) and August Sun (Ira Mediyama [2003]) were the first two films in the series.
Although With You, Without You was released internationally in early 2013 and won several awards, public screenings of the movie were banned in Sri Lanka. The Public Performances Board (PPB) claimed Vithanage's movie could internationally "discredit" the armed forces.
The film is based on The Good Woman, an 1876 novella by Russian writer Fyodor Dostoevsky, and transposed to contemporary Sri Lanka. It centres on the relationship between Sarathsiri, a Sinhalese pawnbroker, and Selvi, a Tamil girl sent by her parents from the island's northern war zones to the safer central highlands region. The two fall in love and marry, but their relationship is poisoned by memories of the horrors perpetrated during the war.
With You, Without You was reviewed by the WSWS in June 2014 and a statement condemning the ban issued by the Socialist Equality Party's presidential candidate, Pani Wijesiriwardane, on December 25.
Last month the film was released and screened in Sri Lankan cinemas, after the Sirisena-Wickremasinghe government appointed a new PPB. The repressive censorship regime, however, still remains. In March, director Nilendra Deshapriya was informed that he would be stopped from making a film about the life of Sri Lankan journalist Richard de Zoysa, who was tortured and murdered by Sri Lankan death squads in 1990.
* * *
Wasantha Rupasingha: Dramatising the reality of war is a challenge for any filmmaker, but in Sri Lanka it is particularly difficult. Why did you make With You, Without You?
Prasanna Vithanage: Internationally, there have only been a few films dealing with war that have been made during the conflict itself. The first was Rome Open City by Roberto Rossellini, which sensitively revealed how various groups fought Italian fascism. This initiated a trend that impacted on world cinema and opened audiences' eyes to their lives and surroundings.
A scene from With You, Without You
In Sri Lanka, there has been a 30-year war and, as we know, the government attempted to censor my film Purahanda Kaluwara (Death on a Full Moon Day). It was eventually screened after legal action and protests against the censorship.
War is an operation of capital, based on profits, and so the media always presents the opinions of the ruling class on this subject. Artists, however, have the capacity to tear away these dominant views and expose the reality of military conflict.
In Purahanda Kaluwara I attempted to examine the fate of Sinhala youth, from the impoverished north-western and north-central provinces, who, because of unemployment and the breakdown of the rural economy, had joined the army. I also tried to show how the war impacted on social ethics and the older generation—the parents of these youth.
Following this film, filmmakers Ashoka Handagama explored the subject of war in Me Mage Sandai (This is my moon) and Vimukthi Jayasundara, in Sulanga Enu Pinisa (The Forsaken Land). The authorities responded by banning both films. Military officials branded the filmmakers as "terrorists" and even threatened them.
While the war has come to an end, the situation for filmmakers has worsened, with Sri Lankan authorities deliberately encouraging war-mongering movies. Once such films began appearing, newspaper editors and film critics claimed that production of realist movies about the civil war had stopped.
We had held up a mirror to the war but were denounced by the media, which argued that it was no longer possible to make these sorts of films. I disagreed with this defeatist mentality and decided to challenge it by making Oba Nethuwa Oba Ekka (With You, Without You). Fortunately I was able to find three people—Mohammad Adam Ali, Lasantha Nawaratne and Rahul Roy—who agreed to produce the film because they liked my earlier work.
WR: What is the significance of the film's title?
PV: This can be seen from several angles. On the one hand, it's an attack on consumerism and male chauvinism, and on the other hand, it's an emotional love story.
It is not uncommon for people who live together to not understand each other—it can be a fiancée, a woman, a friend or a person of another nationality or race. Instead, they live on their memories of the other, even after they have been abandoned or separated. In this situation one can neither go forward, nor backward—one is forced to live with the other in an imaginary world. So the title has two meanings: "When you were present I was with you, without you, but after you left I'm still with you, without you."
WR: What attracted you to Dostoevsky's novella and what did you want to emphasise?
PV: Rahul Roy is an Indian documentary filmmaker, and he asked me to make a film on male chauvinism. I considered several stories. After reading Dostoevsky's novella I realised that there was no better work exploring the foolishness of male chauvinism. What is male chauvinism? It's men treating women as second-class citizens. Trotsky once said that one of the basic characteristics of a good artist was his kindness towards the oppressed masses and to women, whom society treats as second-class people.
The novella compelled me to ask whether we use our own maleness to suppress other people because they might have certain contrary ideas. This domination, of course, is not limited to sex. There is state domination, which we see in Sri Lanka with Sinhala chauvinism against Tamils and Muslims.
So I wanted to use Dostoevsky's novella to compel the audience to see the national question as a metaphor for the post-war conditions that have developed, while trying to discuss the theme of love. This is what I mean by saying that the novella can be seen from several angles.
WR: The film powerfully reveals the plight of Tamil tea estate workers. But why did you set it in that part of the country?
PV: It's true that there was no war in this area. On the surface, it was a very calm region. But as we know, there is another side to that calmness. While tea is one of Sri Lanka's main exports, the living conditions of the workers who sweat for this product are very poor. Superficially, the area is enchanting, but underneath there are enormous oppressive pressures and complex social relations.
In the final stages of the war, Tamil parents from the north brought their young daughters to the plantation areas in order to prevent them from being forcibly recruited by the LTTE. Some of the parents returned to the north after leaving their girls in the care of Tamil tea plantation workers.
The film shows how poverty forces some parents to marry their daughters to older men, and I also wanted to show the humanity of Sarathsiri's servant. In fact, she is the only person who understands Selvi, and there's a compassionate relationship between them. Sarathsiri never directly looks at the servant's face when he speaks to her.
Those who come to Sarathsiri's pawn shop are deeply oppressed and I wanted to reveal this in their facial expressions. Sarathsiri never speaks to these people in Tamil. He conducts his business in Sinhala and he thinks that they should understand his language. Ultimately, when he is forced to visit his servant's home, he observes the difficult socio-economic conditions and the dark life she faces. I introduced this as a counterpoint—dark lives in an enchanting environment.
WR: The film shatters communalist claims that Tamils and Sinhalese cannot live in peace. Race and religion are transcended when people fall in love.
PV: With You, Without You is generally considered a love story—a journey for love—but some critics also regard it as a dark film. Yes, it is dark, because this basic relationship—the strong humane bond between man and woman, man and man, or the oppressed people of one race with another—cannot be achieved because of the social and political conditions confronting Sarathsiri and Selvi.
WR: The government originally banned the film. How did they justify this?
PV: The PPB originally wanted me to remove scenes in the film that related to Sarathsiri having retained his military pistol, even after having left the army. In Dostoevsky's novella, the main character was also a soldier. In my film, the soldier never handles it [the pistol] and it was the same in the novella. Both stories deal with the psychological impact of the sight of that pistol on the girl. Without that episode, the audience can't understand the film.
The PPB also declared that Selvi's reference to the "Sinhala army" was "problematic." It is true that the army is officially called the Sri Lankan army, but my film's characters are not mouthpieces for my views.
My film's rhythm flows from the struggle and heartbeat between the two main characters. In this case, a Tamil girl, especially a girl from an LTTE-controlled area, would refer to the Sri Lankan military as the Sinhala army. That's the word I used and if I didn't do so, I would not be an honest artist.
The PPB said Selvi's allegation that the army had stolen gold jewellery was not appropriate. But she was repeating what she'd heard. The then PPB chairman Gamini Sumanasekera phoned me, wanting to know why this girl hadn't spoken about the things the LTTE had done.
Many people now talk about reconciliation and say that after the war, there should be peace and unity between Sinhala and Tamil people. But for peace to be attained you have to look at things from the point of view of the other.
WR: The tragic end to Selvi's life is clearly a product of the war.
PV: That's true. But an artist can see the roots of these situations only if she or he is honest. If you are honest you'll see it in the society surrounding you. I'm a fan of Russian literature. According to Chekhov, the biggest crimes are not just shootings and killings, but to deny the fulfilment of life. This happens daily to so many in our country.
War is a crime because it destroys people's expectations and aspirations quicker than any other. We know that the existing social system and its basis, capitalism, are responsible for war. We have experienced this here for thirty years and seen how the lives of the Sinhala and Tamil oppressed are affected.
WR: How have Sri Lankan audiences reacted to the film?
PV: The film is being screened at twenty theatres and I'm very satisfied with the response, particularly from young people.
At the same time, this film has been a challenge to some people's beliefs. Some social media networks have made comments such as, "A Sinhala youth has been made to kneel before a tiger [terrorist] woman." Some cannot bear the challenge of the humane touch that I point to in the film.
In my opinion, there are nationalist forces on both sides that disagree with this human touch and are subtly campaigning against the film. Amidst all this, however, the younger generation—an educated generation with a vision—has responded positively.
WR: You supported the campaign to elect Maithripala Sirisena as Sri Lanka's president in January. Looking back nine months on, what do you think of your decision to join a movement that brought Sirisena and Ranil Wickremasinghe into government?
PV: At that time several groups emerged that were disillusioned with former President Mahinda Rajapakse's regime. Among them were truly oppressed layers and there were others disgusted with the vicious manner in which art and culture were being used as tools of the government. I joined this group. I personally thought that Rajapakse had to be defeated and so I joined the platform of Citizens' Power and called for a vote against him, knowing that the advantage would go to Sisrisena. I now realise that, as an artist, my vision had been clouded.
Only the Socialist Equality Party warned about the actual political meaning of the line-up behind the campaign for Sirisena. I have to admit that I was only looking at the surface of the problem, and the immediate issues. I personally do not believe that Sirisena's bourgeois alliance has any answers for the problems faced by the people of Sri Lanka.
The political change after the removal of Mahinda has been very slight. We have only been given a very small space. My film has been publicly released and if Mahinda were in power it would not have been. The government appointed a new PPB, but as artists we demanded the abolition of these PPBs and the removal of all state restrictions on art. Nothing of the sort is taking place at present.
Every government since independence has worked either to regulate art and artists, or to subject art to the travesty of supply and demand in the market. This has led to artistic degeneration and paves the way for its destruction. Although my film is being released, I do not believe that this government can take any positive measures towards the development of art.
'Hate, censorship are political tools of suppression' | Sudhish Kamath | June 30, 2014 | The Hindu
Interview with Sri Lankan auteur Prasanna Vithanage on his film With You, Without You
Just last week, 52-year-old Sri Lankan auteur Prasanna Vithanage was excited about his critically acclaimed romance drama With You, Without You finding a nationwide release in India through PVR's banner for indie films, Director's Rare.
After a long chat with movie buffs over dinner following the premiere of his film in Mumbai, he grabbed the bill and ran toward the bar to pay, on sensing that we were not going to let him get it.
We chased him down and grabbed the bill back from him. "You're a guest here. When we come to Sri Lanka, you pay," I said, as a friend from PVR put down his credit card to get the bill. We won that round.
Two days later, the film-maker got a very different taste of Indian hospitality when local stray groups protested against the release of the Sinhalese film in Chennai.
After Shoojit Sircar's spy thriller Madras Café and Santosh Sivan's Inam, which looked at the war through the eyes of a child with Down's syndrome, the boycott of Vithanage's With You, Without You is the third instance of mob censorship of films based in Sri Lanka, cleared by the Central Board of Film Certification, in the last 18 months.
Vithanage and the producers appealed to Tamil Nadu Chief Minister Jayalalithaa to support the film, but the government's silence and the reluctance of the police to provide security to the only two screens playing the film forced him to head back to Sri Lanka disappointed.
The film-maker answered questions in an exclusive email interview with The Hindu.
Isn't it ironical that a film that tries to reconcile differences through love is targeted by the politics of hate? Did you even imagine this would happen?
Any work of art will be targeted because our subcontinent is polarised on ethnic identity. This is not the first time I faced it. Political groups who promote identity politics thrive on promoting hate. Unfortunately, that's the reality. Though I didn't expect this to happen in Tamil Nadu over this film, I will face it.
For the benefit of those who haven't seen the film, can you clarify what exactly you have tried to do with this love story between a Tamil girl and an ex-Army officer? Which side do you sympathise with more?
The love story was in a way a metaphor for post-war Sri Lanka. As the storyteller, I tried to put myself in the soul of both characters and bring out the beats of their experiences. I didn't want the audience to sympathise with any of these two characters; I wanted them to empathise with them.
How did the Tamil Nadu government respond to your plea to support the film?
As far as I know, the letter forwarded by the co-producer Rahul Roy and signed by signatories in Tamil Nadu hasn't received any response. Anyway, PVR has issued a statement that they will not take a chance by releasing the film.
Do you have this form of mob censorship in Sri Lanka? Or is the law and order machinery stronger there?
In Sri Lanka, censorship has different faces. Sometimes, films are banned by organisations and institutions other than legitimate censor boards. Mob censorship is the most unruly face of them all. In Sri Lanka, there were instances where the mob took their protests into the streets and harassed the public. Then, due to pressure, some films were withdrawn by the producers.
Do you think cinema can help heal wounds or scars caused by wars? Or help us see the larger picture and help each side understand the other better?
The father of film, D.W. Griffith, said, "My task is to make you see." There will always be people who do not want to see beyond their perception. If people are without prejudice and are open-minded, they will see the larger picture and understand each other better. That's what happened in Chennai too, which I witnessed in the jam-packed theatre after the screening of the movie (before the threats happened).
What sort of response did you get from the rest of India during your premiere and screenings?
As a film-maker I received a bigger audience with this release. This film brought me closer to the Indian independent film-making community. Mob censorship in Tamil Nadu aroused curiosity about the film and the film-maker and it brought me even closer to young movie lovers there. Though it was a limited release, this past week was probably the most eventful week of my life.
How do we fight hate and censorship? What practical solutions do you see?
When you look at film history, whether it's McCarthyism, Stalinism or religious fundamentalism, in the struggle with all adversaries, film-makers were forced to find new forms of storytelling to communicate with the audience, which brought out the best in their creativity. Film-makers like Howard Hawks, John Huston, Andrei Tarkovsky, Abbas Kiarostami and Mohsen Makhmalbaf were able to smuggle their ideals without compromising their vision. Fred Zinnemann replied to McCarthy's witch-hunt by making a film about his era in the form of a western called High Noon .
Hate and censorship are not individual expressions; those are political tools of suppression, so I believe you have to fight back collectively as a movement.
Sudhish@thehindu.co.in
Why did I make "With You, Without You"? Noted Sri Lankan filmmaker Prasanna Vithanage in conversation with Long Live Cinema before the theatrical release of his film in India | LLC Editorial | June 17, 2014 | Long Live Cinema
They say love is never enough. Noted Sri Lankan filmmaker Prasanna Vithanage's Oba Nathuwa Oba Ekka (With You, Without You) set in post war Sri Lanka, bring us close to two characters who collide quite accidentally, and through them we experience the deep and seemingly unbridgeable chasm that conflict almost always creates. Will love help them cross the bridge? Or will the past continue to color the present? A man and a woman from two ends of the thirty year old bloody civil war in Sri Lanka discover that the color of love is blue, and life, shades of grey. Long Live Cinema spoke to Writer-Director Prasanna Vithanage before the theatrical release of the film in India on June 20th.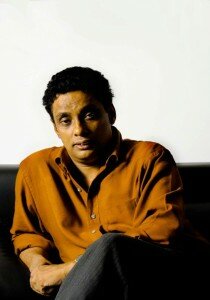 Q: Why did you choose the trope of the love story to explore the issue of ethnic conflict taking place between the majority Sinhalese community and the minority Tamil Community?
PV: Due to the sensitivity of the issue and possible censorship of the subject matter, I had to thinly veil the story by using love story as a front and filmmakers around the world throughout years have repeatedly done this for the same reason to smuggle their films for the audiences.
Q. The film is based on Dostoyevsky's novella 'The Meek One'. You stated in interviews that what struck you was "its probe into masculinity, and two, it's questioning of consumerist values which tend to destroy human relationships." How do these themes find resonance in your film?
PV: In the novel itself those two qualities are not highlighted but they are in the subtext. Like that in the movie, I kept these in his behavior not openly but in subtext. Protagonist's frugal nature, static lifestyle, machismo, chauvinistic behavior and hooked on violent wrestling videos. He has set his life targets on achieving material goals. He is also reluctant to express emotions because he thinks for a man it's a weakness. And at the same time he thinks by giving into emotions it will compromise his materialistic goals.
Q. In various reviews the film has been noted for its distinct cinematography and use of silences. Could you talk about your aesthetics strategy vis-a-vis the film, how did you achieve this technically?
PV: Every director creates his film a world of its own with the help of the cinematographer. I believe what Bresson said that sound is the third dimension of cinema. Soundscape could create the state of mind of viewer. We created the world where you see no sunlight. Only one moment in film you see sunlight or sun, where you are given hope. All the exterior scenes were shot during the magic hour. We thought to bring out the blue/grey coldness of the relationship of protagonists. We used blue as a motif and avoided certain colors to achieve a monochrome look. My frequent collaborator M D Mahindapala achieved this with filtering and with filtering lamps with getting help from the production designer. Prasad Lab helped us to sustain that look when we were grading the film.
After seeing Balki's "Pa" I wanted to work with Tapas Nayak because I was impressed with his sound design. We shot the film in a mountain town where rain is frequent. And the way Tapas used thunder and rain hitting the roof enhanced the dramatic tension of the relationship between protagonists. Tapas always able to bring out sound you don't see on the frame but could be out of the frame. It brought out different texture to the film.
Q. Did you face any difficulties regarding the theatrical release of the film?
PV: Film is not yet released in Sri Lanka. After completing a film, to get a chance to release, you have to wait on a queue, because of the limited number of theatre. Though we shot this film on 35mm we have it on DCP. Unfortunately Sri Lankan cinemas are not yet converted to digital cinema. We are waiting for them to convert so we can have digital release because it will cost us very less compared. This release is the first theatrical release of the film and I am thankful to PVR Director's Rare for this opportunity.
Q. The film has traveled to several International Film Festivals. Could you walk us through the film's journey through these festivals and response it has elicited amongst the audience?
 PV: The film has travelled to nearly 30 film festivals in 4 continents winning 5 awards and 2 nominations. This has been shown in from Kerala to Daramshala in India. People who did not have much idea about the ethnic war in Sri Lanka were able to empathize with the character. Female audiences regardless of continents had a stronger reaction and they told me they could relate to female lead. The biggest achievement for us was winning the Russian critic's award at Sakhalin film festival in Russia. Getting approval from the people who knew Dostoevsky and I met young people who wanted to read and get to know Dostoevsky after watching the film.
With poise, without prejudice | Anuj Kumar | June 13, 2014 | The Hindu
Sleeping with the enemy is not a new theme for the purveyors of potboilers but what if the boy and girl come from communities who were actually at war till yesterday and are still nursing the scars. Most filmmakers either tend to push real conflicts under the carpet or romanticise them, but celebrated Sri Lankan director Prasanna Vithanage tries to walk the razor's edge and has come out with the right blend of intensity and melancholy without taking sides with "Oba Nathuwa Oba Ekka" ("With You, Without You").
An adaptation of Fyodor Dostoyevsky's short story "The Gentle Creature", it is about the relationship between a Sinhala boy and a Tamil girl set in a post-war scenario in upcountry Sri Lanka. The way he has portrayed the dilemma that they can neither live with each other, nor survive without each other, is unnerving.
Releasing in India this week with English subtitles, this is Prasanna's third film set around the bloody civil war that corroded the social fabric in the island nation. He puts his effort to bring the conflict between four walls as "my idea of cinema is to show less and make the people feel more." And this minimalism reflects in his storytelling where silences and visuals speak more than words and together put a disturbing picture of the social psyche.
Prasanna tells us that originally he had set out to do something else. "I was invited by a Delhi-based art collective called Aakar to make a documentary on masculinity. While researching for the theme, one of my colleagues came up with the idea of adapting Dostoyevsky's short story 'The Gentle Creature'. I had read the story but never thought that it could be adapted not only as a story on masculinity but also as a metaphor for the Tamil-Sinhala problem."
Dostoyevsky's popular short story deals with the relationship of a pawn shop owner and a girl who frequents his shop. It has already been adapted by Mani Kaul as "Nazar" (1991). Here Sarathsiri marries Selvi, who is facing not just penury but is on the verge of being sold off to an old man. However, in the process the saviour starts behaving like a god to her. "He wants her to become a subordinate in the relationship. He wants her to work for his goal," explains Prasanna. His silence is deafening. "Silence could be used as a weapon against women," he reasons.
And against a minority community as well? Putting things in the larger perspective, Prasanna, a Sinhala himself, says the film suggests that "as a majority community we should acknowledge the past. And both communities have to learn to forgive and reconcile with the past. Innocent Sinhalas have also lost their lives in the civil war."
The story ends with the girl committing suicide which Dostoyevsky described as a meek suicide, and perhaps that's why the story is also translated as "The Meek One". But Selvi is anything but compliant and considering Sarathsiri ultimately submits himself to her makes the drastic step look a little forced.
"She tries to forget the past but when she comes to know about his past, her wounds and scars open up again. She is in love with him but she knows that it is momentary and it will not last. And she doesn't want to love him half-heartedly. So she preserves the moment forever by taking her own life," Prasanna reflects. He says the current situation is bleak and the film projects the yearning for love as both parties are still in a state of denial.
Some critics have found Shyam Fernando's performance single-note, but Prasanna says the whole idea was to use his stony silence to generate the coldness in the relationship.
The bleakness reflects in the production design as well, as shades of blues and greys dominate the colour scheme. "We shot mostly in the mornings and evenings to avoid sunlight. Blue and grey depict coldness in human relationships. We have used red only once when Selvi enters his house and brings some cheer to his life."
On Selvi speaking Sinhala, Prasanna says, "In the upcountry, Tamils usually know the majority community's language." He wanted to cast a Tamil actor as Selvi but discovered to his dismay that because of the polarised atmosphere there are not many Tamil actors around. "While going through the photographs I came across Anjali Patil, who had just passed out from the National School of Drama. She is a unique combination of vulnerable eyes and strong body language. That's what I wanted. And she managed to dub in both Sinhala and Tamil (for the Tamil version). It is quite a feat for an actor who didn't know both these languages when she was signed." Not only Anjali, his long time collaborator editor A. Sreekar Prasad also doesn't know Sinhala. "But he understands eye movement like no other. Whatever ideas a director has, the film comes alive through moments between actors, and Prasad knows how to put them together."
Prasanna says Bollywood films are big in Sri Lanka. "Once upon a time we used to copy their songs and themes. Liberalisation has led to a situation where we don't we need to copy because theatres mostly run Bollywood films." Interestingly, language doesn't come in the way. "Language was never an issue. Though dubbing and subtitling of Bollywood films is not allowed in theatres, language doesn't come in the way. Today the biggest stars in Sri Lanka are Shah Rukh Khan and Ranbir Kapoor."
The film has not been released in Sri Lanka yet because Prasanna has shot in digital format and most theatres in the country don't support it. "It requires a lot of money to convert it into print and I am looking for support." In the past he has faced backlash from Sinhala groups for making films on war. "My first film on war ("Death on Full Moon Day") was banned because the authorities felt it could prevent youngsters from joining the army. The Supreme Court had to step in."
In the post war situation cinema and theatre are seen as a great healer. "But what can you do when some people want the healing also on their own terms. They are not ready to accept the ambivalence that exists between black and white, but I am not ready to conform to a political agenda," he signs off.
With You, Without You pulled out from Chennai after protests | IANS | Jun 22, 2014 Hindustan Times
Critically acclaimed Sri Lankan film
by filmmaker Prasanna Vithanage was pulled out from screens on Saturday following protests and threats from Tamil fringe groups.
The film released in select cities in the country via PVR Director's Rare on Friday.
"We will have to discontinue #WithYouWithoutYou with immediate effect in Chennai due to protests/threats from local Tamil associations. Sorry (sic)," posted Shiladitya Bora, who manages PVR Director's Rare, on his Twitter page on Saturday.
With You, Without You, about two characters who accidentally collide in the post-war Sri Lanka, features Shyam Fernando and National Award winning Indian actress Anjali Patil in the lead roles.
Sri Lankan film, With You Without You, to open in India | Gautaman Bhaskaran | May 31, 2014 | Hindustan Times
Renowned Sri Lankan auteur Prasanna Vithanage's film, With You Without You, will open theatrically on June 13 in several Indian cities like Mumbai, Delhi, Bangalore, Chennai, Pune and Hyderabad.
The movie first screened at the 2012 International Film Festival of India at Panaji, and its lead actor, Anjali Patil, who plays a Tamil girl, won the Silver Peacock for acting.
The film travelled to many other festivals after Goa, but Vithanage could not find a distributor for India. PVR has now agreed to step in.
But can Vithanage breathe easy now? One is not sure.
For, Tamil Nadu has been overly sensitive to the Sri Lankan Tamil issue that even kept away state chief minister Jayalalithaa from the recent Prime Ministerial swearing-in ceremony in New Delhi. She did not attend the event because Sri Lankan President Mahinda Rajapaksa was invited. Tamil Nadu's ties with Sri Lankan Tamils are quite strong.
And the 30-year ethnic war in the island nation — which ended in 2009 — between the majority Sinhala population and the minority Tamils left a wound that is yet to heal. The Tamils consider themselves as victims.
Cinema has also been affected. We saw this a few weeks ago when Santosh Sivan's Inam (set in Sri Lanka) could play in theatres only for a few days before it was taken off. And this was by no stretch of imagination a pro-Sinhala work. Yet, Tamil groups did not allow the picture to run.
Vithanage's feature, inspired by Fyodor Dostoyevsky's short story, The Meek One, is wonderfully narrated through sparse frames and economy of words. As much as it probes masculinity and consumerism – which tend to destroy human relationships – With You Without You is, at the end of it all, a story of one man's efforts to right a ghastly wrong. Of course in his own little way.
Vithanage's movie is about a Sinhala pawn-broker and a young Tamil girl who frequents his shop. They marry, but the memory of the war atrocities continues to rattle the wife.
Pawn-broker Sarathsiri (played with gripping intensity by Shyam Fernando) has a dark past, while Selvi (Patil) has had a torturous existence. Her two school-going brothers were killed by the Sri Lankan (essentially Sinhala) Army, and her parents had sacrificed a lot to save her from the rapist soldiers. Brooding and sombre, Sarathsiri takes a while to win Selvi's affection, and finally when the two are just about able to push their past away, death intervenes. "The girl finds it impossible to reciprocate the man's love, and in a way that is the tragedy of our nation", Vithanage adds.
Easy to label the work political, With You, Without You goes far deeper than the mere repercussions of the war. Actually, the movie is a poetic study of humanism, of forgiveness, and, above all, of the overwhelming sense of love with its power to break the mightiest of barriers.