What men want | Shanta Gokhale | Jan 30, 2014 | Mumbai Mirror

Let's Talk Men 2.0, a package of four films made by filmmakers from Nepal, Pakistan, Sri Lanka and India, had its Mumbai premiere at the NCPA last week. Coordinated and co-produced by Aakar, a Delhi based trust of which Rahul Roy, one of the filmmakers, is director, the films are an attempt to look at and provoke thinking about men, not necessarily vis-a-vis women, but in their relationships with themselves, with their work outside the home and their responsibilities within the home towards parents, wives and children.
We have grown used to seeing women represented as women. The theorists of the women's movement revealed exactly how women's work had been constructed by a patriarchal society. In the absence of a similar movement for men, nothing had so far pushed them to examine their gender roles consciously and critically. In recent years, however, people have begun to wonder if, under the deafening silence about men in public discourse, something pretty worrying isn't happening. Anthony Clare's book, On Men: Masculinity in Crisis speaks of the seriousness of the problem in our rapidly changing world. Clare confesses that his own sense of being a man, gathered osmotically from the environment, was that who he was didn't matter. What mattered was what he did. Men were their work.
Nepali filmmaker Kesang Tseten's documentary, Men At Work is constructed on this very premise. He observes men doing what defines them best — their work. But men are not happy doing any work. They aspire to do work that will bring them social respect. In Rahul Roy's documentary, Till We Meet Again, a perky child casually remarks that his father has become nothing — he just drives an auto. The three friends in Meenu Gaur and Farjad Nabi's Zinda Bhaag are not happy with their dead end work. They aspire to do the 'dunky', Lahori slang for illegal immigration. One of them has done it, been jailed and deported. Another does it and returns in a body bag. The third endangers every future prospect by gambling to fund his dunky, because that's the man thing to do.
One of the questions Roy asks his protagonists in Till We Meet Again, do you talk to your wives? They don't. The very idea is alien to them. What's there to talk about when gender roles are rigidly defined and mutually accepted? The relationships of these men with their wives are stable because they are based on convention. In Sri Lankan filmmaker Prasanna Vithanage's fiction feature, With You, Without You, the relationship between Selvi, a Tamil girl (Anjali Patil) and Sarathsiri, a middle-aged Sinhala pawnbroker (Shyam Fernando) is unconventional. In post-war Sri Lanka, still deeply scarred by 30 years of ethnic conflict, they can only grope towards an uneasy love. Their precariously balanced relationship is made even more fragile because Sarathsiri conceals a guilty secret from his past in the army. When he finally reveals it to Selvi, it sends her hurtling into nightmarish memories of the army raping Tamil women and shooting innocents in cold blood.
It was to save her from such an eventuality that Selvi's parents had sent her to live with relatives in the south. But the relatives had made her their drudge. A job was the only way out of this hideous situation. That is what had brought her to Sarathsiri's pawnshop with her almost worthless trinkets. The sternlooking, unspeaking Sarathsiri had seen her plight, been gradually drawn to her and proposed marriage. After some hesitation, she had accepted.
The original story, Fyodor Dostoevsky's The Meek One, is narrated by the pawnbroker in the first person. He is pompous, self-righteous and profoundly conscious of the debt his young wife owes him, her benefactor. Vithanage's Sarathsiri, although not so blatantly self-righteous, does point out to Selvi at one point that it was he, not the God for whom she went to church, who saved her. Was she an object of pity then, not love?
The film moves slowly, drawing out each painful transition in a relationship that is falling apart, enveloped in a silence that is near complete. Only Selvi's large, liquid eyes speak. This is Anjali Patil delivering an intense performance, calibrating her expression through hope and love ("I looked at you till my eyes hurt") to despair.
With You, Without You leaves you aching for what could have been but wasn't, because a man was too proud to talk, a woman too meek to ask, and history too difficult to forget.
Man to Man | Deepa Gahlot | 28 January 2014 | MidDay
In a post-feminism world, if women have had to bear the consequences of changing gender equations, men have been through a confusing time too.
Just like women are expected to be breadwinners and homemakers plus look slim and desirable at all times, men are told they have to be tough, but they are also told metrosexual is the way to be, and then again socked in the jaw and told to man up. Whenever there are crimes against women, the entire male species is perceived as the enemy.

A man's world? Sri Lankan filmmaker Prasanna Vithanage's film With You Without You is a tragedy of a man who can't express his emotions, because in his society, men are not supposed to
Whenever there is talk of gender issues, it is kind of assumed that it will be about the problems women face in a still largely patriarchal world, but men have problems too. Society allows them a lot more leeway in dealing with their problems, but also expects a standard of masculinity that can be difficult for many men to live up to.
The Let's Talk Men package of films, that had its first instalment of four films in 1998 when Delhi-based filmmaker Rahul Roy initiated the production of films from South Asian countries, gets its version 2 in 2014, with films from India, Sri Lanka, Nepal and Pakistan. As Roy says, it is better to explore the question of masculinity using aesthetics and culture rather than violence and strife.
In the interim 14 years, society has changed, women have made large strides into the workplace, men are expected to change their attitudes towards working women, soften up and accept a certain degree of 'domesticisation', at the same time, trying to make sense of new definitions of machismo. If violence is frowned on, so are tears. They may no longer be forced to be sole providers, but can a man remain manly in the eyes of his peers if he cooks and minds the children? In a very telling scene from one of the films — Rahul Roy's Till We Meet Again — a wife is asked if her husband changes the baby's diapers as he claims and she laughs till tears roll down her face.
In Sri Lankan filmmaker Prasanna Vithanage's film, With You Without You (adapted from Fyodor Dostoevsky's The Gentle Creature), set against the Sinhala-Tamil conflict, a pawnbroker (Shyam Fernando) marries a young woman (Anjali Patil); he loves her but always taunts her with the fact that he saved her from an unsuitable marriage to an old man. There is a kind of comfort and compatibility, but the husband's seeming coldness hides a deep trauma that he has never been able to reveal to anyone. Vithanage says the film is a tragedy of a man who can't express his emotions, because in his society, men are not supposed to.
The actor playing the pawnbroker has a gentle face with eyes that convey helpless longing, but he is constantly seen at work or parked in front of the TV watching wrestling matches or zipping around on his motor cycle — behavior that he identifies with as 'male'.
In Till We Meet Again, Roy again follows the four men whose lives he had filmed 12 years ago, and the insights coming through casual banter are just as insightful. They continue to live in the old working class neighbourhood of Delhi; they have married, had children, are burdened with the responsibility of providing for parents, siblings and their own spouse and kids, but their own youthful dreams of getting rich have come to naught. They sound carefree and cheerful, but it seems like a pose.
In this film, and the Pakistani feature Zinda Bhaag about three friends desperate to get to the West and earn money, there is a side of life in South Asia that differs from the West — the man does not (in most families) walk away from caring for his parents; in fact, the mother remains a domineering figure. In both these films, from two sides of the border, the condition of the working class male, who feels responsible for his family, is more or less the same — a mixture of stress, guilt, resentment and the small joys of domestic life. But what shines through is that when they reached one of their goals, the bar was raised again. To be a good man, it would seem, is not that easy.
Deepa Gahlot is an award-winning film and theatre critic and an arts administrator. You can follow her on Twitter @deepagahlot
– See more at: http://www.mid-day.com/articles/man-to-man/15053037#sthash.VEBEm1Fu.dpuf
The Price Men Pay | Kanika Sharma | 22 January 2014 | MidDay
Four films from South Asia, under the film project Let's Talk Men 2.0, will be screened in the city, aiming at teaching us a thing or two about the Y chromosome
The 'Woman Question' has been making headlines for some time in the country now, but it has been stealing focus from understanding men in their own right. Catch the film project, Let's Talk Men 2.0, in the city with the screening of stellar films like — With You, Without You (Sri Lanka); Till We Meet Again (India); Men At Work (Nepal); and Pakistan's entry to the Oscars, Zinda Bhaag. The project was first undertaken in 1998 and then had a second run, encouraging filmmakers from South Asia to decode the masculine and the challenges men face in becoming 'macho'.
Rahul Roy, project coordinator and festival organiser tells us, "This was the first series of its kind where a bunch of male South Asian filmmakers set out to present films that explored the idea of what it means to be a young boy in different parts of the region."

Naseeruddin Shah in Zinda Bhaag
Chronicling how men are stuck between tradition and modernity, Roy terms these films "slices of life" that look back at the past decade presenting the other side of the equation with "issues like conflict, unemployment and rape."
Going for the kill
Clearly violence is one of the major veins in these films as Roy informs us whose documentary, Till We Meet Again also forms a part of the programme.
Speaking on why South Asia comes under the radar, Roy explains, "Events in one part of the region has repercussions in the other part. The demolition of the Babri Masjid in India sparked riots in Karachi, the 30-year civil war in Sri Lanka emerged as an important political issue in Tamil Nadu, and protests against war crimes in Bangladesh got a response through counter protests in Kolkata." Being the head of Aakar, a Delhi-based trust that works in the areas of media, culture and research, the academic emerges in Roy.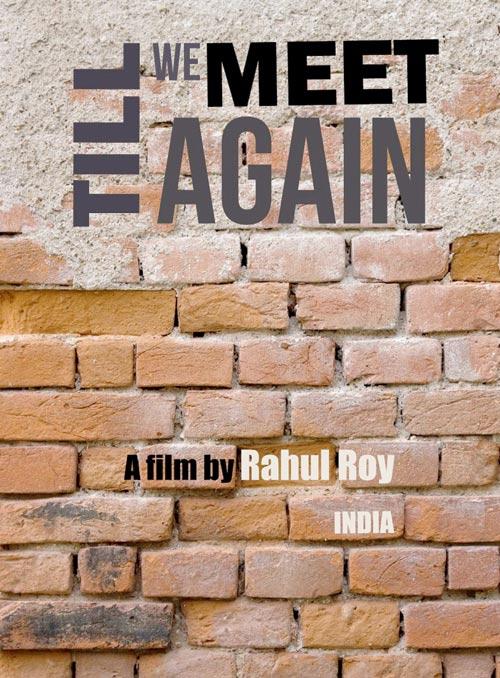 Poster of the film, Till We Meet Again
How men become men
The selection of films promises an array of revelations as Roy shares, "The films in this series reflect on the price men pay to become 'men'. In the film, Till We Meet Again, all household members deride Kamal (one of the characters) because he has been unsuccessful at work. Sarathsri, the brooding principal character of With You, Without You, is so focussed on what he wants to achieve that he refuses to respond to his wife's love and in the end, it gets too late. When young Gurkha boys line up with roll numbers written on their bare chests at a recruitment drive of the British army in the film, Men At Work, they are constantly goaded to be tough. Lastly, in Zinda Bhaag, a group of young men put their lives at stake to illegally migrate to the West but are killed in the end."
– See more at: http://www.mid-day.com/articles/the-price-men-pay/15042004#sthash.qi4EZT2e.dpuf
Preview : Let's Talk Men 2.0 | Nandini Ramnath | 20 January, 2014 | LiveMint
---
 'Zinda Bhaag' from Pakistan explores the illegal emigration industry through the eyes of a cable operator and his friends
Screenwriters and headline writers, novelists and academics have attempted to answer the question of what women want for years. As any woman will tell you, the question should equally be addressed to men. Some answers are forthcoming from the second edition of Let's Talk Men, comprising two documentaries and two features made by film-makers from the subcontinent and exploring various aspects of masculinity. Let's Talk Men 2.0 will be shown at the National Centre for the Performing Arts in Mumbai on 22 and 23 January.
A still from the documentary 'With You, Without You'The men in the films have either dropped off the grid or are clambering to get on to it. From Pakistan comes Zinda Bhaag, which explores the illegal emigration industry through the eyes of a cable operator and his friends. From Sri Lanka comes With You, Without You, a drama about a Sinhalese man and his Tamil wife, set in the period after the civil war. Nepal contributes Men At Work, an anthology of films about boys and men. And from India comes the most accomplished film in the package, Till We Meet Again, about the hopes, dreams and anxieties of four working-class men in Delhi.The project revisits concerns explored in the first chapter of Let's Talk Men, which was launched in 1998. Three of the film-makers from the first edition are back—Rahul Roy's Till We Meet Again goes back to the men with whom he spent several months in When Four Friends Meet. Kesang Tseten, director of Men At Work, was also involved earlier, as was Farjad Nabi, who co-directed Zinda Bhaag with Meenu Gaur. Sri Lanka replaced Bangladesh this time round, with Prasanna Vithanage dramatizing the armed conflict between the Sri Lankan government and the Liberation Tigers of Tamil Eelam through the marriage between a Sinhalese ex-soldier and a Tamil refugee.
Given the time gap between the two editions, there are several direct and subtle differences, says Roy. "The first series was more defined, in the sense that we were working towards a set of films that could be used with young people," adds Roy, whose organization, Aakar, has spearheaded both editions. "Much more work has happened in the last 10-12 years, it is a field that has opened up, with lot of new people making films from the position of explicitly exploring masculinity." That's one reason for the equal emphasis on form and content in the new collection—the inclusion of feature films, for instance. "The project was supposed to be all about documentaries, but when we met, Prasanna and Farjad presented fiction along with other ideas," Roy says. "We felt they were exciting and worth following, and with fiction, we would also get new audiences." The films have been subtitled in Hindi, Urdu, Sinhalese and Tamil.
The documentaries and features collectively represent different facets of men, but the films by Roy and Vithanage are likely to get the most attention because of ongoing concerns with sexual violence against women. Roy says he has noticed an uptick in commentary about sexual violence against women, and not merely of the prescriptive kind. "Besides public attention, one significant thing was that even in the mainstream media, a lot of men were writing and expressing themselves from a gendered position," he says. "Men tend to be objective, comment on others' lives, and talk about national importance, but I found a lot of writing from the personal position."
The films mix concerns and film-making styles. With You, Without You is a two-hander bolstered by spare storytelling and effective performances. Zinda Bhaag, which seems shoehorned into this project, is a serio-comic look at an unsanctioned industry that pushes young Pakistani men to take desperate measures. Tseten's Men At Work throws together observational shorts about a young domestic helper who lives and works in an apartment next to the film-makers', a garage mechanic, novice Hindu priests and recruits for the Gurkha battalion in the British army (Tseten has expanded the last segment into a full-length documentary, titled Who Will Be a Gurkha.
"I didn't want to do interviews, but make something in the mould of observational documentaries by the Maysles brothers and Frederick Wiseman," Tseten says. "I wondered about the film—should it be instructive or prescriptive or informed by ideas about masculinity? I thought I would use the physical realities and situations that have to do with men and then leave it open-ended."
Till We Meet Again crystallizes the project's aims most effectively. Roy meets the four residents of Jahangirpuri in Delhi whom he had captured in 1999 in When Four Friends Meet. The older film bristled with the energy, swagger and optimism of the men, but when Roy meets them again, a sense of defeat is inescapable. He hands them cameras to capture their surroundings, but they are unable, or unwilling, to venture beyond an invisible border that marks the end of their neighbourhood. "When they were younger, there was a certain objectivity with which they could look at the city—Jahangirpuri was their world and they had a sense of what it was and how it was linked to the city," Roy observes. "They seem to have lost that sense, and there is a loss of being able to look at themselves in a more objective sense with regard to the city." As a result, we see the men at their homes rather than on the streets, playing husband, father and breadwinner—and not always willingly.
There is a palpable sense of sadness, of limited professional success, and even of emasculation at having to replace their carefree ways with responsible behaviour. "It was a very sad film to make," Roy says. "Most of them have done very well, but at the same time, they are also beaten—that excitement about life has gone. The fear of marriage felt in the earlier film, that they would be under the control and spell of their wives, hasn't played out but it is present in other ways, in the sense that they have ended up becoming much more controlled and settled." Each of the films, in their own ways, suggests emptiness, melancholy and unhappy endings—a pessimistic but apt collective statement on the state of men in severely anxious times.
Dissecting masculinity in the South Asian context | Nidhi Gupta | 28 September, 2013 | TheSundayGuardian
A still from Kesang Tseten's Men At Work

n an unequal world, 'boys will be boys' is an oft-repeated phrase that encompasses a wide range of social behaviour – from a general sense of XY entitlement to an assumption that men are 'like that only', pre-ordained from birth to be violent, dominant or generally the powerful sex. Yet, there is now greater interest in attempting to understand what goes into making men, rather than simply studying how this has affected other genders. The NGO Aakar's project, Let's Talk Men, is an effort in this direction – with four films shot and executed in four separate South Asian contexts, the initiative aims to reveal various situations that men find themselves in and are moulded by. Last week, the second edition of Let's Talk Men was held with films from Bangladesh, Pakistan, Sri Lanka and India. Supported by Partners for Prevention, a UN agency, the first edition happened in 1998. "When we started, masculinities were just beginning to be discussed from within the feminist movement and academic circles. It was a fairly new concept then, but the second edition is timely as it has gained from all that has happened in the past 15 years. It also tries to open windows on how men can reflect on their separate situations and see themselves differently," said Rahul Roy, director of Aakar.

His film Till We Meet Again touches base with the four protagonists from Jahangirpuri, Delhi, of his 1999 film, When Four Friends Meet. The men, whose earlier preoccupations dealt with girlfriends and finding employment, are now married with children. They attempt to negotiate the everyday with their families and friends, and are, in a sense, appropriated by this city that they earlier looked upon critically. Kesang Tseten's documentary Men At Work, on the other hand, looks at four different kinds of work spaces. Here, a Nepali domestic worker, a mechanic, young boys studying for priesthood, and Gurkhas vying to be part of the British regiment, find themselves being regimented into becoming men. Prasanna Vithanage's feature With You, Without You positions itself at the heart of the Sinhalese-Tamil conflict, tracing an army officer's tryst with love and reality. Meenu Gaur and Farjad Nabi's feature Zinda Bhaag puts the spotlight on the lives of three boys from Pakistan for whom emigration (by hook or by crook) is the only answer to, and escape from the pressures of society and family.

| | |
| --- | --- |
| | Through this project, we've attempted to challenge certain ways in which masculinity is being interpreted and defined in the development sector. — Rahul Roy |

The films emphasise that people are a product of their circumstances. In Zinda Bhaag, for instance, Khaldi is a taxi-driver bent on migrating to the UK because he needs money to support his mother and his sister's wedding. He tries through the formal route and is rejected, is fleeced by an agency, and finally resorts to gambling for a fake passport and visa. In Tseten's documentary, an aspiring soldier says that the British Gurkha regiment is all he ever dreamed of joining because he saw his grandfather holding a gun and he wanted to do the same, because it was a matter of great pride in his family. In Roy's documentary too, we see the four men torn between the idealism of youth and their often unbearable realities, bringing out aspects of violence that are very disturbing to watch.

A still from Meenu Gaur and Farjad Nabi's Zinda Bhaag

"If men today centrally feature in processes of violence or discrimination, they cannot be ignored. Through this project, we've attempted to challenge certain ways in which masculinity is being interpreted and defined in the development sector," says Roy, pointing to the desire for a much more nuanced investigation into the subject. And he feels this has already begun, thanks to the December 2012 protests. "It was an emotive, cathartic moment that triggered a lot of writing by men about the experience of being a man. There is a lot of social questioning – the implications of which are difficult to discern at the moment, but perhaps more platforms for men to articulate how they have received these events might be helpful," he observes.
The freedom of the beards | Sonya Fatah | 27 September, 2013 | Yahoo!News
A film project exploring masculinity returns after 14 years with a new quintet of films from India, Pakistan, Nepal and Sri Lanka. In films like Zinda Bhaag and Till We Meet Again, we see how men and women smote each other and how their violence is nowadays more measured, but also cleverer.
In an isolated ashram somewhere in eastern Nepal, a cohort of young Brahmin boys – priests-to-be – is learning ritual after ritual. We follow them through their daily routine: boys learning together, boys eating together, boys playing together, boys sleeping together – many Jacks in a Jill-less world. Whatever interaction these young men have with women is restricted to their phone calls home to mothers who demand to know: are they behaving themselves, are they studying hard, are they becoming good men?
And so Kesang Tseten, one of a quintet of filmmakers in the second edition of the project Let's Talk Men, shows us – in his film, Men At Work – the gradual development of a quiet, male worldview.
Let's Talk Men began in 1998 when Delhi-based filmmaker Rahul Roy thought it would be a good idea to create a space for discussion on male perspectives. What, wondered the bespectacled and bearded Roy, is peculiar about the hundreds of male worlds that exist across the region south of the Himalayas? In truth, Let's Talk Men, which investigates regional masculinity and takes viewers into the worlds of men in four South Asian countries, owes its inspiration to a challenge posed by a woman.
In The Second Sex, one of the 20th century's great works of feminist philosophy, Simone de Beauvoir put up the dare – less as a dare than a statement of fact: "A man would never set out to write a book on the peculiar situation of the human male. But if I wish to define myself, I must first of all say: 'I am a woman'; on this truth must be based all further discussion. A man never begins by presenting himself as an individual of a certain sex; it goes without saying that he is a man."
Roy set out to respond to De Beauvoir with a series of stories told by men, about men.
This year, 14 years later, with almost the same set of men again behind the lenses, Let's Talk Men launched version 2.0, its second attempt to engage De Beauvoir with another quartet of stirring, if disconnected, films on the 'peculiar situation of the South Asian male'. Of them, only Roy's new film, Till We Meet Again, presents us with anthropological food for thought on the gradual coming of age of man – Roy has returned to document the four young men whose choices, dreams and aspirations he had profiled in his previous film for Let's Talk Men v 1.0.
Still, the other three films in this quixotic line-up collectively give us a rich – if balanced largely on the stories of disadvantaged and struggling men – assortment of worlds and perspectives, each uniquely male. In telling these stories, the filmmakers also let us into the world of the women attached to these male worlds and the complex ways in which women contribute to those male worlds.
Zinda Bhaag, a fiction film from Pakistan that follows three young Lahore men who put their all into finding ways to do the dunky (cross borders illegally), is being touted as Pakistan's first blockbuster. Men At Work takes us to Nepal through a series of four vignettes, into world after world dominated by boys and men. Prasanna Vithanage's With You, Without You, a fictional love story set against the Sri Lankan civil war about an unlikely relationship between a Sinhalese pawnbroker and a broke Tamil woman, tackles masculinity through the silence of its protagonist, hoping that confession will allow him to come to terms with a brutal past.
The diversity of the films that form Let's Talk Men reflects how the challenge of addressing masculinity was significant.
Roy attributes this diversity to freedom. "They were not prescriptive in terms of clearly defining the theme," he says, stroking his beard, in one of the small rooms in his two-storeyed Gulmohar Park editing studio in Delhi. "We were dealing with the larger theme of masculinity. What happens when you are thinking around masculinity, not from the position of engendering women? The moment you talk of women, the gender aspect jumps out at you."
Indeed, a similar project titled, Let's Talk Women would likely have had a different, and more structured and focused, series of films. The films that form the Let's Talk Men collective seem to confirm De Beauvoir's hypothesis on how differently we approach gender.
Roy is aware of that and his film reflects his own long-term engagement with 'being male.' Men, he says, have the advantage of invisibility. "It prevents any inquiry, no one is questioning you… The result is you're not responsible unless you are an obvious criminal. The rest of us escape it."
In Till We Meet Again, Sanju, Sanjay, Bunty and Kamal are four men, all living in a notified New Delhi slum called Jahangirpuri, who have changed since the last time we saw them on film in When Four Friends Meet. Their worlds are now less fluid, less free. Family and responsibility anchor them. They have lost the enthusiasm and hunger for life that we saw 14 years ago. As providers for their families – with the exception of jobless, depressed Kamal – they struggle to make ends meet. Sexism, once discussed, is now applied. In one conversation, the four friends are discussing how to deal with their wives when they 'misbehave'. For all of them, except Sanjay, physical punishment – a slap or two, perhaps – is the best form of taming the shrew. Only Sanjay objects to his friends' choices, and they laugh away his concerns.
"In the first film there was a lot of sexism and misogyny in the way girls and women were talked about," reflects Roy. "Now, to see them in their relationships – to see it at work – was very, very disturbing."
There is something else worth noticing, however.  This is the question of class, and in some cases, caste.
On their own, Roy's men are empathetic characters. Part of the underclass, one of them works two jobs to keep his family afloat. Another works 12 hours ferrying passengers across New Delhi in his auto. As you listen to them reflect on their futures, it's hard not to know that nothing much is going to change for them, that the dreams they have had for other kinds of futures aren't going to come true, even as they walk, drive, stand by hoardings glittering with Rs 30,000 phones or new housing projects projecting an American style picket-fence existence. Everything is out of reach for this kind of male, the South Asian ghettoized in his notified or un-notified slum.
Ambition is also what drives the three characters in Meenu Gaur (yes, a woman!) and Farjad Nabi's Zinda Bhaag. There, too, as Nabi and Gaur give us flashes of the world of the more privileged – an elite woman stabbing away on her MacBook as Khaldi and Taambi, two of the film's central trio, fix her Internet connection; a Pakistani Uncle with a false American accent accusing Chitta, the third friend, and his catering buddies of stealing his BlackBerry even as his bratty four-year-old grandson is playing with it under the table  – we encounter, and appreciate, the struggle of such men to overcome their reality.
And in the first vignette in Tseten's film, our anxiety builds with every moment as we see a childhood gradually snuffed out in the case of the lonely young boy who works as domestic staff in a Kathmandu house.
By presenting us these disparate, though commonly male, spaces, the filmmakers tell us something about women – that they are protected. In not having to deal with the challenge of the male rat race, not having to be successful, not having to deal with the simmering anxieties of pushing ahead in an increasingly capitalistic environment, women form the coaxing backdrop of these stories.
The honest and well-meaning Khaldi in Zinda Bhaag – whose point of view largely leads us through the story – is virtually driven to acts of insanity by the calculated goads of his aspiring mother. Fatherless and without a home, the family depends on Khaldi to afford his sisters' marriages, to elevate the family's rental status in their neighbourhood of better-offs. When he fails despite his best efforts, it is his mother who overacts her desperation, her desire to marry off her daughter to a man who will soon die because she cannot afford her wedding, and who pushes Khaldi over the edge to do wrong.
In Roy's new documentary, there is something oppressive about the mother who sits at home in wait for her sons' income and preys on her daughter-in-law. Bunty's mother treats his new wife – after his first wife is tragically electrocuted – like a slave, pushing her into a little corner. For intimacy, he reaches out to another woman, an affair he doesn't feel like he needs to explain or justify, and one his new wife, frightened and alone, is not likely to resist.
Although we do not hear the voice of the young child's mother as he speaks on the phone to her in Tseten's ashram vignette, we sense – in the boy's stiff answers – that a barrage of questions about order and conformity are being thrown at him, not love.
How does this reflect in how men treat women in these films? If Roy's film gives us a chance to reflect on how things have changed over the years since he first met the foursome, we also see how violence is now more contained, though more calculated.
"I do see this huge change," says Roy. "There was no fear before. Men could drag their women and beat them to a pulp and no one would say anything. Now there is a fear that someone might call the cops. So the violence is measured. You can be slapped, you can be pushed. It's amazing how these things are calculated. Men have not become less violent but they've become more clever at their violence."
Indeed, women have also become more aware of their rights. Still, a window into Bunty's home reminds us that many women remain cloistered in their homes and as unaware of their rights as ever, in spite of greater access to technology. One thing we're not aware of is how differently the men of these films treat their children and how they discriminate between the male and female child. They are eager to make their children happy and even spoil them.  All the men in Roy's film are adamant about putting their children through school, even though some of them worked as children.
In Zinda Bhaag, Khaldi and his mostly equal, special relationship with the fiery Rubina, an organic soap saleswoman who, like the boys, is striving to overcome her situation through her 'Facelook' soap business, comes to a bruising end. When things begin to fall apart, Khaldi takes his angst out on Rubina and it is this rant at her that reveals his view of women, channelled, no doubt, through the manipulative workings of his mother. In shattering the ever-dynamic Rubina, Khaldi reminds us: A man is a man, after all.
Questioning masculinity isn't something that comes to us naturally. Men, as Roy says, have the great freedom of abdicating responsibility, the freedom to explore the world, unfettered and unchained. Yet the stories of the men in Let's Talk Men, whether fictional or not, are tragic ones. After watching each of the four films, I felt a little numb and a little hopeless. None of the characters, perhaps with the exception of Kamal (a jobless and rather charmless lad from Roy's When We Meet Again), deserve freedom more. All are chained. All are punished. Their masculinity is the only thing left to hang on to, and it comes through cheap thrills like binge drinking on poor Chitta's hardworking carpenter father's rooftop in Zinda Bhaag, or hanging out and calling – on loudspeaker – Bunty's lover.
In conversation with Tseten about the making of Men At Work, he told me about how he wanted to add another vignette about Rotary Club members at a meeting in Nepal. But eight hours of footage later, he felt he had nothing compelling to share so he shelved the idea, cutting the only potential white-collar male worldview out of his film and away from our critical eyes. I'm not sure how De Beauvoir would react to Let's Talk Men. Her perspective on gender was naturally shaped by her European context and background. Our cultural relativity has a shifting axis, I feel. Gender is one part of a complex hierarchical social order in which caste, class and numerous other identities affect our interactions, our belief systems, our aspirations and our possibilities.
Roy should continue. Version 3.0 can only give us more to debate and discuss on what it means to be a man in South Asia.

Sonya Fatah is a New Delhi-based journalist. She writes for GlobalPost.com and has a regular column in The Times of India.
Men will be men | Budhaditya Bhattacharya | 26 September, 2013 | The Hindu
Let's Talk Men 2.0, a set of four films screened in the Capital recently , seeks to represent and interrogate masculinities.
Without an understanding of how men are socialised, what drives them towards violence, how men become 'men', discussions on gender and sexual violence are useful only up to a certain point. While the global women's movement has generated significant amount of insight about women and their continuing oppression, masculinity has rarely been addressed in all the cultural production in its wake.
A lot of it has to do with men not talking about what it means to be a man. "If there is a woman filmmaker or a woman artist, the issue of gender is floating very close to their work…It almost naturally comes into their work. If one looks at all the male artists, the issue is never there," says filmmaker Rahul Roy. He is the co-ordinator and co-producer of Let's Talk Men 2.0, a package of four films from Pakistan, India, Sri Lanka and Nepal, which seeks to break the silence around men. It takes forward the process which began in 1998, with Let's Talk Men 1.0.
The project, which includes two documentaries and two fiction films, shows that masculinity isn't an essential concept. Rather, it is a performance orchestrated by family, neighbourhood, religion and state.
According to Roy, "The films are the way they are is because they are windows of experience…If you see other lives unfolding in certain situations and certain ways, then it gives you a moment of thought and reflection about your own life."
Men At Work
Kesang Tseten's documentary is an anthology of four fly-on-the-wall films set in spaces that "smell of men". The operative word in the title is 'work', for the film looks at how work produces different forms of masculinity. In the first film, a young male domestic worker is attending to chores on a terrace, while in the second men in a garage are zealously repairing and refurbishing old vehicles. In the third, boys at a residential institution learn how to become priests, while in the fourth young Gurkha men undergo the necessary rites of passage for joining the British army.
"The central thing I took away from the project is that gender is all pervasive. If that's the case, I didn't want to really have a film looking for things that would be illustrative," the director explained. Masculinities exist in everyday life in diverse contexts, and it is these the director brings out.
With You, Without You
Set in post-war Sri Lanka, Prasanna Vithanage's fiction feature tells the story of the lonely pawnbroker Sarathsriri, who spends his evenings watching WWE. The job, and an old secret, have hardened him, but his marriage to Selvi brings about a possibility of redemption.
The film is an adaptation of "The Meek One" by Fyodor Dostoyevsky.
"When I read the short story I felt it's all about masculinity. What I have added to the short story is planting it in post-war Sri Lanka. So in a way it's not just about masculinity of the person, it's about masculinity of the State also," the director said.
As a fiction filmmaker, Prasanna's handling of masculinity is different. "I was thinking about masculinity all the time. As a fiction filmmaker I thought it shouldn't be on the nose, it should be in the subtext."
Zinda Bhaag
Directed by Farjad Nabi and Meenu Gaur, Zinda Bhaag tells the story of three footloose Lahori youth — Khaldi, Taambi and Chitta. All three are bent on doing, or have done, a dunky, an illegal journey across Pakistan's border, to improve their economic prospects.
There is a mythology of the successful dunky which emboldens these men. Puhlwan (played by Naseeruddin Shah), a local strongman, informs viewers early in the film of one Bubba, who journeyed successfully into France to open a chain of restaurants (called La Bubba). Notions of pride and honour are wound tightly around this network of fate and illegality. The film subverts these notions. Attempts by these men to tempt their fate (through gambling or illegal travel) end in failure and shame.
Full of songs and dance, this film is probably the most colourful of the lot. "We were very conscious of the fact that we were doing a Punjabi film, and Lollywood and Punjabi films have a certain kind of history. For instance, the Lollywood hero will not dance. The woman will do the mujra and the man will stand like a rock. We wanted to invert these stereotypes," the directors said.
Till We Meet Again
Rahul Roy's documentary revisits the characters of his earlier film, When Four Friends Meet. Bunty, Kamal, Sanjay and Sanju, residents of Jahangirpuri in Delhi, are still best of friends, although the city has changed around them. In 1999, these four men were single. In the new film, all of them are married.
Unlike Kesang Tseten's documentary, Till We Meet Again is interview driven. By asking the men pointed questions, the film excavates their sense of self, their ideas of love and marriage, and their attitudes towards their children and wives, characterised by a certain violence.
Parts of the film have been shot by the characters themselves. "I wasn't sure if I was going to be able to use the footage they were shooting, but I felt instinctively that the film requires them representing their own reality. I wanted to see how they would present their own lives and families," Roy said.
Let's talk about men | Kalpana Sharma | 14 September, 2013 | The Hindu
A project that questions concepts of masculinity is more than welcome.
We write and talk about women's rights, about violence against women, about stronger laws to "protect" women and about punishing the men violating these laws. But there is little discussion on what it means to be a man in today's India. An on-going project titled "Let's Talk Men" (www.letstalkmen.org) has come up with some interesting perspectives on this subject.
Has the understanding of being "masculine" changed even as women have begun to think of themselves differently from their mothers? Or are boys and men, barring a handful of exceptions, no different from their fathers and grandfathers? Has their view of women changed? Or do they continue to believe that women, whether they are mothers and sisters, or wives, are basically there to serve them?
Under the Let's Talk Men project, launched in 1998, five filmmakers from South Asia — India, Nepal, Sri Lanka and Pakistan — were encouraged to explore concepts of masculinity in their own countries. Now 15 years later, these filmmakers have followed up with another set of films.
I have seen Delhi-based filmmaker Rahul Roy's film, Till We Meet Again. It returns to the four young men — Bunty, Sanjay, Sanju and Kamal from Jehangirpuri on the outskirts of Delhi — who featured in his first film. In 1999, when Roy made When Four Friends Meet, these four men were single. In the new film, all of them are married. The film explores how these men see their own lives, what they think of their wives, why they justify hitting their wives (something they did not support when they were single), and what they feel about the expectations of their families and society from them.
Such an exploration is particularly relevant at the present moment when there are so many questions being asked about the growing violence against women in the public space — although the greater violence women continue to experience in their homes has never resulted in such great outrage. What is it that makes men, who seem perfectly reasonable characters as the ones in Roy's film, think it is acceptable that they should hit their wives because, as one of them says, that is the only way to make them understand?
Roy's film raises questions around masculinity through the lives of these four men, all from the same class, living in a lower middle-class neighbourhood. Two of them have work and bring home an income while the other two are unemployed. Yet, the latter would never consider helping their wives with housework.
These men's lives reflect the reality in many of our cities. In a milieu where the value of a man is measured by his ability to take care of his family, men who fail must fear that their "maleness" will be questioned. Yet, there is little in our educational system, or in the media, that seriously addresses these concepts. On the contrary, entrenched views of masculinity are being reinforced every day.
Discussions on "gender" tend to leave out men. We do not, for instance, make an effort to understand the impact of socialisation and family on the roles men are pushed to play. We do not know what is going on in the minds of men as more women get educated. Or why, despite education, the sexual division of labour persists within homes.
There is also a serious gap between what women want, and what men expect from them. In response to my last column, a young woman articulated this well: "What I experience as a college student is that there is a growing sense of unease among those who are comforted by the blanket of patriarchy, by the liberation of women. They feel that their space is being invaded and they feel threatened. What they don't seem to realise is we are only taking back what was ours in the first place — the freedom to be oneself and chase one's dreams." Roy's film suggests that young men today don't believe that women were ever entitled to such freedom.
Clearly, there could not be a better time for a project looking at and questioning concepts of masculinity. But it is a project that needs to find a resonance in our homes, in our schools and colleges and in our work places.
sharma.kalpana@yahoo.com
[/wr_text][/wr_column][/wr_row]